& Consultants, Inc.






Residential
All of our appraisers are state licensed or certified and we are approved with most major lenders. We are proud of our long-term presence in the real estate market, and believe that when it comes to professional home appraisals, you and your clients deserve the best. Please feel free to contact any of the appraisal professionals at Ricky Juban Appraisals.
Product Details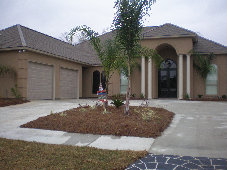 What is an appraisal
A home purchase will be one of the largest, single investments most people will ever make. The purchase of real property is a complex transaction that requires many parties to make it work.

The realtor is usually the most known person through the transaction. The mortgage company provides the financial capital needed to fund the transaction. The title company ensures that all aspects of the transaction are completed correctly and that a clear title passes from the seller to the buyer.

The question is who makes sure the value of the property is in line with the amount being paid? This is where the appraisal comes in. An appraisal is an unbiased estimate of what a buyer might expext to pay- or a seller receive- for a parcel of real estate, where both the buyer and seller are informed parties. To be an informed party, most people use a licensed, certified, professional appraiser to provide them with the most accurate estimate of the true value of their property.